Monday, October 02, 2006
A Headstone and An Opinion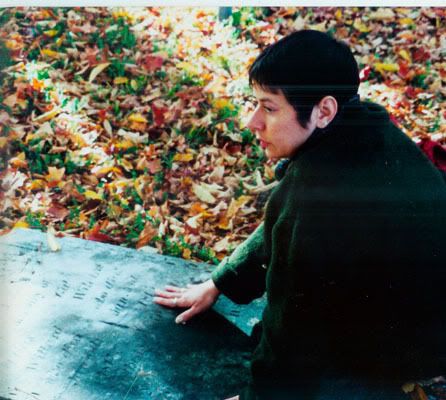 Sev had me of the mind to post a headstone shot. I have nicer ones of this little Revolutionary War cemetary we visited in Vermont one autumn, but the scanner isn't working.

Well, we actually have a new scanner/printer/copier/fax, b/c spouse had mine and it quit working, so he got a new one, b/c they were on sale, which was very nice, but he accidentally threw out the disc that came with it. You know the one--that disc with all the software that renders the machine operational. It's downstairs somewhere in the trash, amidst all the kitty litter and soppy coffee grounds and cigarette butts. Mmmm...great.

So, no scanner.

As for the knitalong, I agree that we should do a quickie. Here's why:
(1) I'm a pretty lame knitter with a short attention span and a need for near-instant gratification.
(2) There's that little point about holidays [errgh] being fast upon us. A quickie (hat, scarf, whatever) could be a gift item, or at least not become one more pre-holiday UFO.
(3) I'm too poor to buy yarn for a project right now. I need money for giftie things and to spoil my Secret Pally with. (okay, so that's only a little bit of money, but yarn is expensive, and a smaller project that would use up stash would cost ZERO money)

Hey, remember this is the girl who never got it together to cast on Knucks.